Lead bullets are the result of violence. Could it be that the cause of the violence itself is also lead? The studies seem to show a clear relationship between lead toxicity early in life and violence later in life. As a potent neuro-toxin that is known to lower IQ and cause learning problems it actually is not so surprising that it can also affect behavior in a negative way. If we want a more peaceful society it looks like we have to get the lead out.
Yes, lead poisoning could really be a cause of violent crime
It seems crazy, but the evidence about lead is stacking up. Behind crimes that have destroyed so many lives, is there a much greater crime?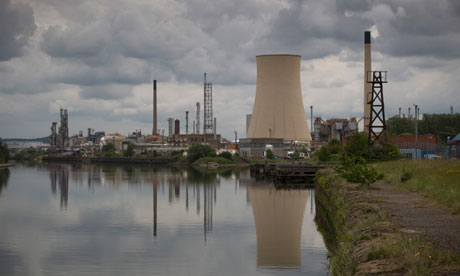 At first it seemed preposterous. The hypothesis was so exotic that I laughed. The rise and fall of violent crime during the second half of the 20th century and first years of the 21st were caused, it proposed, not by changes in policing or imprisonment, single parenthood, recession, crack cocaine or the legalisation of abortion, but mainly by … lead.
It's ridiculous – until you see the evidence. Studies between cities, states and nations show that the rise and fall in crime follows, with a roughly 20-year lag, the rise and fall in the exposure of infants to trace quantities of lead. But all that gives us is correlation: an association that could be coincidental. The Mother Jones article, which is based on several scientific papers, claimed causation.
I began by reading the papers. Do they say what the article claims? They do. Then I looked up the citations: the discussion of those papers in the scientific literature. The three whose citations I checked have been mentioned, between them, 301 times. I went through all these papers (except the handful in foreign languages), as well as dozens of others. To my astonishment, I could find just one study attacking the thesis, and this was sponsored by the Ethyl Corporation, which happens to have been a major manufacturer of the petrol additive tetraethyl lead. I found many more supporting it. Crazy as this seems, it really does look as if lead poisoning could be the major cause of the rise and fall of violent crime.
The curve is much the same in all the countries these papers have studied. Lead was withdrawn first from paint and then from petrol at different times in different places (beginning in the 1970s in the US in the case of petrol, and the 1990s in many parts of Europe), yet despite these different times and different circumstances, the pattern is the same: violent crime peaks around 20 years after lead pollution peaks. The crime rates in big and small cities in the US, once wildly different, have now converged, also some 20 years after the phase-out.
Nothing else seems to explain these trends. The researchers have taken great pains to correct for the obvious complicating variables: social, economic and legal factors. One paper found, after 15 variables had been taken into account, a four-fold increase in homicides in US counties with the highest lead pollution. Another discovered that lead levels appeared to explain 90% of the difference in rates of aggravated assault between US cities.
A study in Cincinnati finds that young people prosecuted for delinquency are four times more likely than the general population to have high levels of lead in their bones. A meta-analysis (a study of studies) of 19 papers found no evidence that other factors could explain the correlation between exposure to lead and conduct problems in young people.
The UK government tells me that because tetraethyl lead is not on the European list of controlled exports, there is nothing to prevent Innospec from selling to whoever it wants. There's a term for this: environmental racism.
If it is true that lead pollution, whose wider impacts have been recognised for decades, has driven the rise and fall of violence, then there lies, behind the crimes that have destroyed so many lives and filled so many prisons, a much greater crime.